The Ministry of Commerce called on those interested and the general public to express their opinions and suggestions regarding the draft consumer protection system, until 10/14/1443 AH corresponding to 5/15/2022 AD.
The ministry explained that it has prepared a draft consumer protection system to protect and enhance the rights of consumers in the Kingdom, after studying the current situation of the market and transactions and benefiting from the best international experiences and practices, to develop a regulatory framework that addresses challenges and conforms to international standards and rules for consumer protection.
The draft system included the recognition of the main consumer rights in accordance with the United Nations guidelines for consumer protection, and the identification of requirements for consumer disclosure of information on products or services. The draft system also prohibited unfair and deceptive commercial practices, unfair terms of contracts, and setting provisions regulating remote contracts and contracts concluded outside the place of the economic operator. The draft system clarifies the terms of comparative advertising, the requirements for disclosure of advertisements, and the prohibition of advertisements directed at children that would harm them.
The draft system showed the provisions of guarantee and conformity of the product or service to standards, standard specifications and quality standards. The project also strengthened the institutional framework for control by defining the provisions of market control and the appointment of inspectors and their tasks. The draft system included the development of consumer dispute settlement mechanisms by strengthening alternative dispute settlement mechanisms.
The draft system also provided for administrative penalties in the event that economic operators violate the provisions of the system, in addition to penal penalties. The project included corrective measures aimed at protecting the consumer from violations by warning the consumer of the violation and obligating the economic operator to adjust its conditions and remove the violation and its effects.
The draft system aims to achieve a fair balance in rights and duties between the economic operator and the consumer, protect the consumer from harmful, defective, violating or unsafe products and services, disseminate and promote a culture of consumer rights, educate the consumer about his rights and duties, and encourage a culture of sustainable consumption.
The Ministry invites those interested and the public to participate and express their views on the draft system through the unified electronic platform for public and government agency opinion polls, "Estitlaa" of the National Competitiveness Center, through the link: https://istitlaa.ncc.gov.sa/ar/Trade/mci/ Consumer/Pages/default.aspx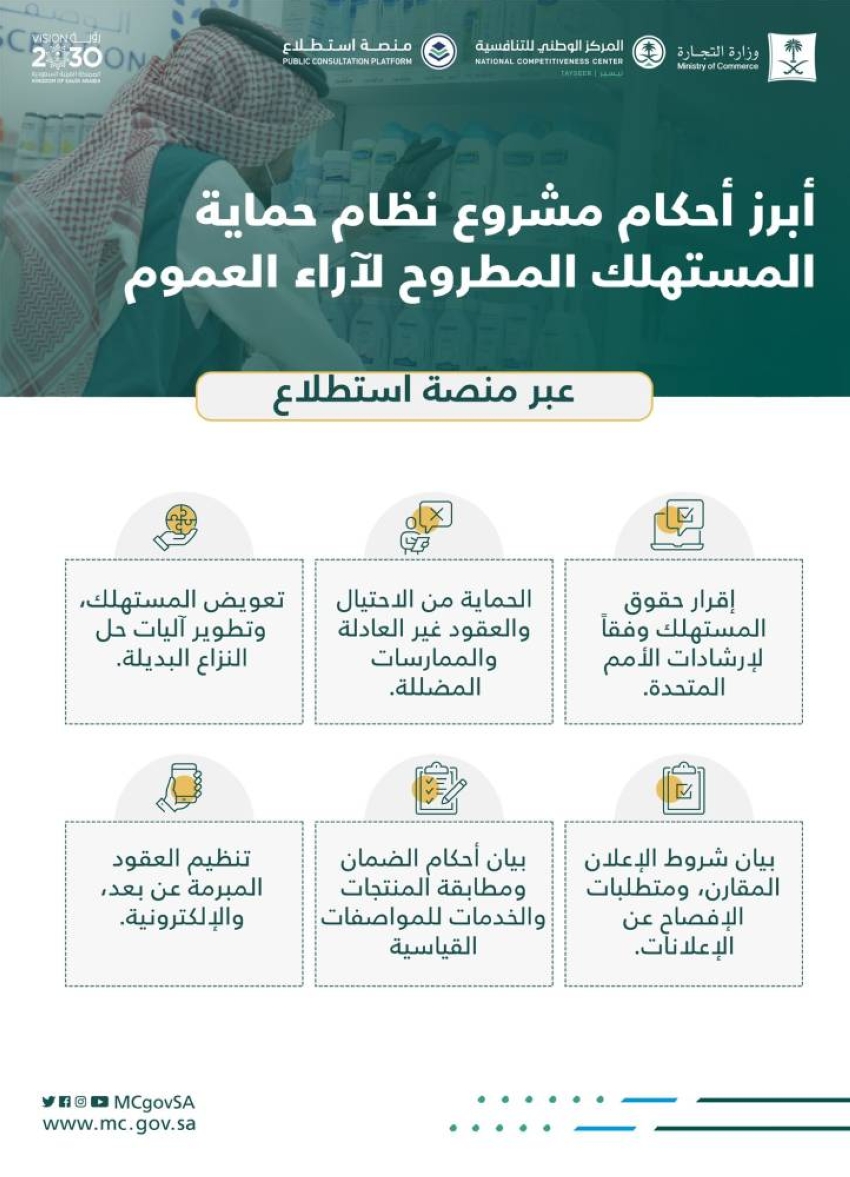 .