The freight trains of the Saudi Railways (SAR) recorded during the first quarter of 2022 AD an increase of 25% over what was transported in the same period last year 2021 AD, after it was able to transport more than 5.5 million tons of minerals and goods, due to its pioneering role in enabling National industries and logistics services and their contribution to achieving the goals of the Kingdom's Vision 2030, to make the Kingdom a hub for linking the three continents.
The Director-General of the Marketing and Corporate Communications Department in charge Hisham Ashkar confirmed that the "SAR" freight trains contribute to empowering the industrial and commercial sectors in the Kingdom by providing sustainable and highly reliable logistical solutions, noting that the quantities transported during the first quarter were reflected in achieving environmental returns represented in reducing Carbon dioxide emissions equivalent to 197,000 metric tons, in addition to saving more than 900,000 barrels of truck fuel (diesel).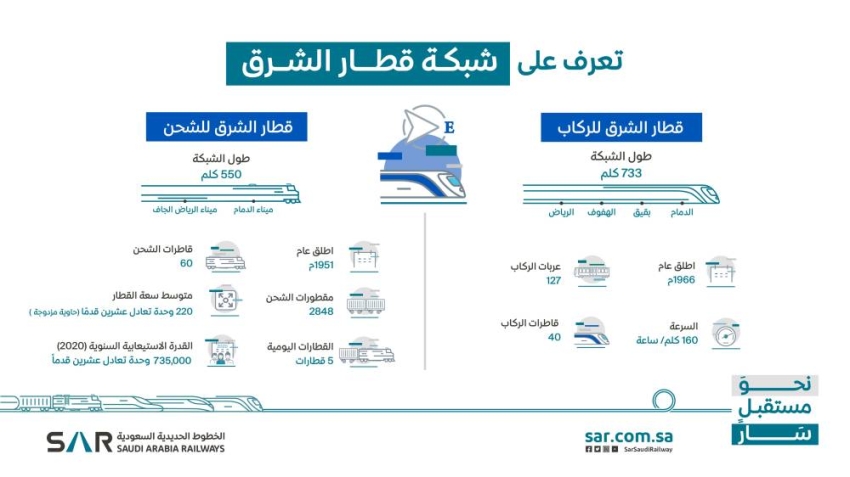 He added that the freight trains contributed to reducing traffic accidents by implementing 2,340 trips in the displacement of more than 230,000 trucks from the roads, which raises traffic safety rates, after freight trains traveled a distance of more than 1.2 million km.
Hisham Ashkar indicated that freight trains actively participated in raising the quality of transportation in the Kingdom, and also contributed to increasing the efficiency rates of freight transport, which enhances the competitiveness of Saudi goods by reducing transportation costs.
He pointed out that SAR has played a pivotal role in the development of the local economy of the Kingdom through its contribution to the transport sector through intercity freight and passenger services, creating promising opportunities by empowering various sectors to enhance the overall development aspirations in the Kingdom, and achieving the objectives of the national strategy for transport and logistics services.
.