The National Industrial Development and Logistics Program (NDLP) has signed two cooperation agreements with the Saudi Basic Industries Corporation (SABIC) and the Saudi Arabian Oil Company (Aramco), on the sidelines of the Global Entrepreneurship Conference, which will be held from March 26 to 31, 2022.
The two agreements aim to contribute to developing local content, raising industrial investment, overcoming obstacles to financing micro, small and medium enterprises, developing entrepreneurship, as well as building Fourth Industrial Revolution technologies in the program sectors (energy, mining, industry, and logistics), in line with the directions of the vision Kingdom 2030.
The agreement with Aramco stipulated the establishment of a framework to facilitate cooperation and coordination between the parties regarding programs to develop the local entrepreneurship system, and other initiatives related to supporting Saudi entrepreneurs in the region, in addition to supporting entrepreneurs and investors to take advantage of business opportunities available within the programs provided by the centers. Specialized in entrepreneurship and business development under the management of both parties.
It included facilitating the establishment of joint work partnerships and achieving the desired benefit for both parties through cooperation in areas of common interest, in addition to exchanging practical and scientific experiences between the two parties, and looking into ways of cooperation through the establishment of joint projects or programs that contribute to the development of the entrepreneurship environment at the level of the Kingdom.
The agreement with SABIC included cooperation with the Nusaned Company to invest in promising small and medium industrial projects, exchanging studies and updated reports on the industrial market, and providing the necessary support and solutions to achieve investment opportunities and solve the challenges facing the Nusaned initiative, through the Programs Committee and Committees. its subsidiary.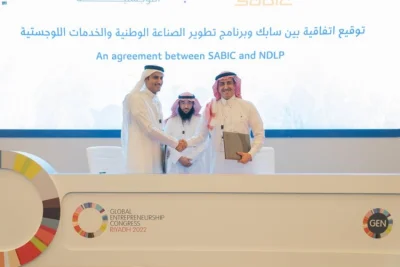 The SABIC agreement stipulated the sharing of industrial and investment data at the level of the Kingdom to support the needs of the "Nused" initiative, and joint cooperation in the field of analysis of the targeted industrial value chain.
For his part, Ndelb CEO, Eng. Suleiman Al-Mazrou' expressed his thanks to the wise leadership for the unlimited support that the program and its executive authorities enjoy in order to achieve the ambitious goals of the Kingdom's Vision 2030, stressing that these agreements are a result of the directives of His Excellency the Minister of Industry and Mineral Resources, and members of the program committee.
.